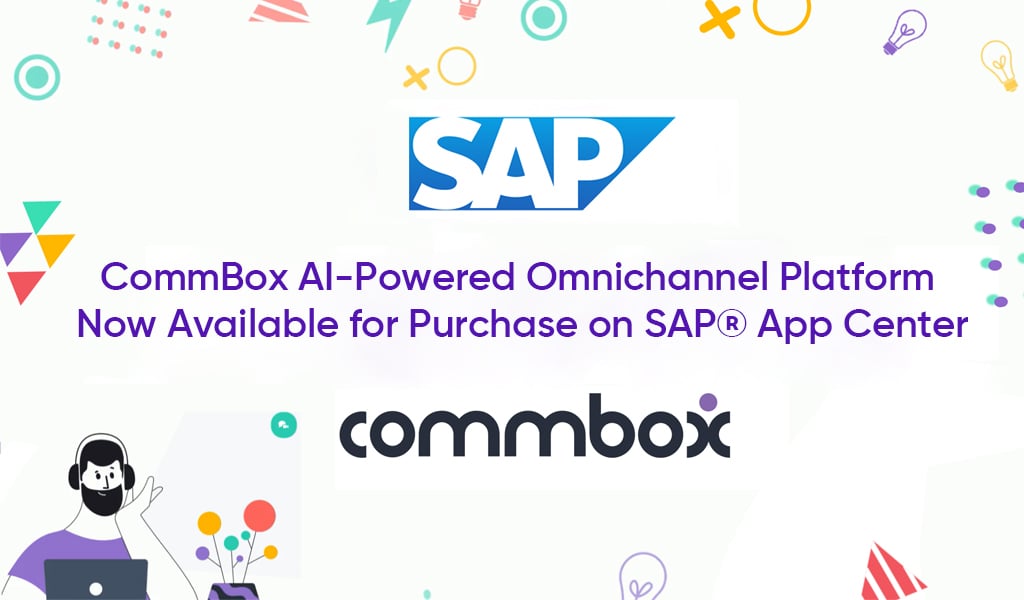 By integrating with SAP Sales Cloud, CommBox AI-Powered Omnichannel Platform delivers smooth, updated, and holistic customer communications for customers around the globe
Glil Yam, Israel — November X,2020 — CommBox today announced that its CommBox AI-Powered Omnichannel Platform is now available for online purchase on SAP® App Center, the digital marketplace for SAP partner offerings. CommBox's platform integrates with SAP Sales Cloud and delivers a complete omnichannel environment that enables businesses to communicate at scale with their customers through all digital channels including WhatsApp, SMS, video and text chat, and social media.
"We constantly look at different types of products that we can empower using our out-of-the-box platform powered by AI," said CommBox CEO Eli Israelov. "Integration with SAP Sales Cloud is a real gamechanger for users and will entirely alter the way they conduct day-to-day communication. We are very pleased to announce the platform's availability on SAP App Center to further expand our reach in delivering real value for businesses."
CommBox AI-Powered Omnichannel Platform allows businesses that use SAP Sales Cloud to inherit the full power and innovations offered by the platform and enables them to reach the next level of communication.
At SAP App Center, businesses can discover approximately 1,600 innovative partner solutions that integrate with and extend SAP solutions. There, customers can find the SAP-validated partner apps they need to grow their business. And for each purchase made on SAP App Center, SAP will plant a tree. Find, try, and buy SAP partner solutions digitally at www.sapappcenter.com.
CommBox is a partner in the SAP PartnerEdge® program. As such, it is empowered to build, market and sell software applications on top of market-leading technology platforms from SAP. The SAP PartnerEdge program provides the enablement tools, benefits and support to facilitate building high-quality, disruptive applications focused on specific business needs – quickly and cost-effectively. The program provides access to all relevant SAP technologies in one simple framework under a single, global contract.
About CommBox
CommBox (formerly BumpYard) was founded in 2013 and since has developed the next generation omnichannel communication platform and customer relationship software that enhances customer experience and leads digital service, support, and sales teams to success.
The platform consists of a smart inbox for effective and updated customer engagement across all channels plus a set of flexible modules that enable its users to serve their customers whenever and wherever it is most convenient for them.
With the CommBox automated customer service and tools, companies can easily launch new communication channels and deliver a unified customer experience, regardless of whether it is through AI-Powered chatbots, email, chat, SMS, WhatsApp, Telegram, Messenger, video, voice, social media, and much more.
###
Any statements in this release that are not historical facts are forward-looking statements as defined in the U.S. Private Securities Litigation Reform Act of 1995. All forward-looking statements are subject to various risks and uncertainties described in SAP's filings with the U.S. Securities and Exchange Commission (SEC), including its most recent annual report on Form 20-F, that could cause actual results to differ materially from expectations. SAP cautions readers not to place undue reliance on these forward-looking statements which SAP has no obligation to update and which speak only as of their dates.
SAP and other SAP products and services mentioned herein as well as their respective logos are trademarks or registered trademarks of SAP SE in Germany and other countries. Please see https://www.sap.com/copyright for additional trademark information and notices. All other product and service names mentioned are the trademarks of their respective companies.
For more information, press only:
Ran Yosef, CMO @CommBox.io
+972-73-7337-35183