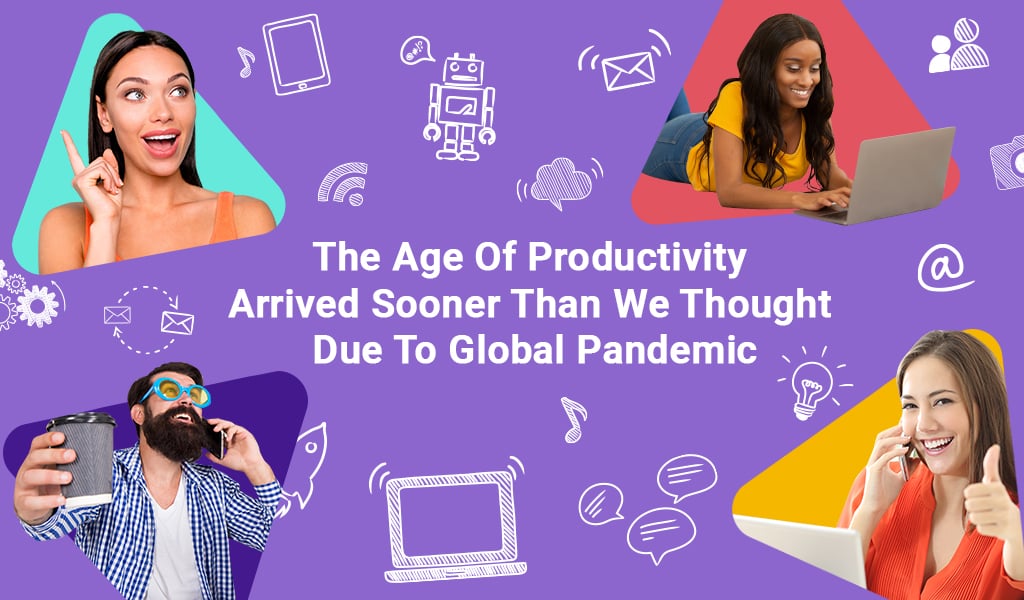 CommBox the leading AI conversational omnichannel platform has recently announced that it experience a significant improvement in its customer base data as the age of productivity arrived already for many worldwide due to the pandemic outbreak where companies and their employees just come to be productive like never before.
The coronavirus pandemic has undoubtedly caused widespread disruption across the world, impacting the world economies, and of course, individual health. However, people are remarkably resilient and have a way of adapting to these challenges. In many ways, the pandemic has ushered in a new and legit way of communication that is more productive and definitely is here to stay.
Remote Working Urge Companies To Become More Efficient In Handling Customer Communications
Over the last few decades, there was a slow crawl towards remote working. Tech companies were some of the first to start moving employees out of offices and into homes. However, remote mass working was still off the table for most companies for several reasons. Many people believed that the tech wasn't quite there or that people are less productive when working from home. Well, coronavirus shook things up.
The remote working accelerated the shift of customer communication from telephony to digital and more automation processes since companies wanted to become more efficient with smaller teams, and work from home without background noises like before while using the traditional telephone communication.
"Today, most of our customers have already shifted towards WFH Model (work from home model) and have successfully utilized home based digital contact center environments. We can clearly see the trend of remote working growing in the last 10 months as an inevitable response to the pandemic outbreak. As the days go by, we can undoubtedly clarify that this "new normal" is expected to continue; and since remote working in customer communication is more efficient in digital channels and messaging, customers during this year had no choice rather than accepting it as the new standard to get service. it doesn't seem that after the pandemic they'll settle for less, it's here to stay," said Eli Israelov CommBox CEO.
Remote Working Upgrades Customer Satisfaction
Remote workers report higher levels of job satisfaction and feel a greater sense of belonging when compared to their office-worker counterparts. It should come as no surprise that remote working offers some significant benefits to employees. They no longer have to suffer long commute times or compromise on work-life balance, among other things. The shift to remote working has led to happier employees, and happier employees are more productive, efficient, and add more value to the business.
Remote workers are also less likely to leave the company, and therefore becoming increasingly experienced. They become industry and company experts. One survey found that companies that offered remote work had 25% less employee turnover than those that didn't.
"Data never lies, we can see the numbers every single day. Agent productivity is on the rise, customer satisfaction rates are up, all thanks to the remote working methodology that forced us to be, in many ways, much more productive and devoted in many ways to our work." Israelov confirmed.
Israelov added that: "The numbers are everywhere and are very much in favour of the WFH model in terms of productivity. Here at CommBox we serve all verticals, here are some statistics we recently came up with:
Messaging has become the main communication channel for companies who operate in the Telecom industry with a growth of 25%.
The demand for automation has increased by 38% for companies who operate in the Insurance industry.
Overall customer satisfaction for our customers increased by 15% since shifting towards WFH model (at all verticals we serve).
19% Growth in agent productivity for our customers since working from home model has been successfully utilized.
SLA has never been better for companies who operate in retail. More tickets are now resolved in less time, keeping the level of service competitive and in high standards.
FRT (First Response Time) rate improved by 23% in the healthcare sector, while agents now serve customers through a variety of digital channels."
Customers Are Ever Ready For Remote Customer Service That Has Proven To Be Viable
Israelov added that: "A shift to remote customer support functions was already well underway before coronavirus, but the pandemic has dramatically sped it up.
Chatbots, supported by technological leaps in AI and automation, are now more powerful than ever before. Chatbots can troubleshoot common issues and address simple and sometimes even complex customer requests with ease, now more than ever when it backed up with the help of a human being when needed in order to provide the ultimate customer experience through the entire journey. Customers are becoming increasingly familiar with chatbots and are happy to use them. This is partly due to increased exposure and partly because chatbots are now much easier to talk to as companies are doing the best, they can create humanlike automated interactions."
Remote working customer support teams are also thriving. With video chat now more common than ever before, holding team meetings or connecting with colleagues is straightforward and frictionless. Having customer service staff work from home is now routine for many companies, and it's been proven to be highly effective. As employees got used to remote working, we see that customers in many cases are getting used to solving problems through messaging or video chat.
The primary concern for many companies is whether remote customer service agents negatively impact customer experience. Well, they don't. Customers are comfortable talking to remote agents and have likely already been doing it for years, even if they don't realize it. In a distraction-free environment, agents are better able to give their full attention to customers. This improves the customer experience and ensures that tickets are closed quickly.
Source is: www.prweb.com